Erdoğan invites Russian oligarchs to Turkey: "Our door is open"
Levent Kenez/Stockholm
Turkish President Recep Tayyip Erdoğan made a highly controversial statement on Friday regarding Russian oligarchies to pro-government journalists after returning from the NATO summit in Brussels.
Assessing the NATO summit, Erdoğan also mentioned sanctions against Russia as well as Western companies leaving the country, in addition to the latest developments in US-Turkish and NATO relations.
As he invited US companies and top brands to Turkey, he called on Russian businessmen, whom he called 'certain capital groups', facing global sanctions, to move their facilities in Turkey.
Stating that Turkey only relies on UN resolutions on sanctions against Russia, Erdoğan said it was not possible for them to set aside relations with Russia.
Turkish original of the statement in which Erdoğan invited Russian businessmen to Turkey.
"If we only consider natural gas, today we buy about half of it from Russia. In addition, we are building the Akkuyu nuclear power plant with Russia. We can't put that aside either. When I said that to [French President Emmanuel] Macron today he said, 'You are right,'" Erdoğan told reporters.
Asked by reporters about his expectations of whether US companies that left Russia will invest in Turkey, Erdoğan replied; "Not only American companies, but also many brands and groups around the world are leaving Russia. Of course, our door is open to those who come to our country.
Erdoğan then added, "Apart from that, if there are certain capital groups that want to come to our country and 'park' their facilities with us, of course, we won't close our doors to them. Our door is also open to them.
The government-controlled media deliberately focused only on inviting Erdoğan to Western businesses while ignoring his other appeal to Russian businessmen. The state-run Anadolu news agency shortened Erdoğan's remarks in its English edition by saying, "In the midst of the war, many big companies are leaving Russia and Turkey's doors are wide open.
Erdoğan's use of the word "park" appears to be deliberate rather than coincidental. International and Turkish media have been reporting for some time now that private jets and ultra-luxury yachts owned by Russian oligarchs that departed before being seized by EU-sanctioning countries are already parked at Turkish airports and moored in Turkish territorial waters.
According to information Shared by ship watcher Yörük Işık on his social media account, the $1.2 billion Eclipse yacht owned by Russian billionaire Roman Abramovich, which has been sanctioned by the European Union and the United Kingdom, is in the coastal town of Marmaris in southern Turkey, while his other yacht My Solaris is off the coast of Bodrum, a popular Mediterranean resort.
Former Russian Prime Minister and Deputy Chairman of the Russian National Security Council Dmitry Medvedev's yacht Universe was also seen off Marmaris. According to ship tracking site MarineTraffic, the yacht set sail for Istanbul on Wednesday.
The 70-meter Polaris superyacht, owned by Russian-Maltese millionaire Maxim Shubarev, is also anchored at Göcek Marina in Fethiye.
Of course, Erdoğan is not just referring to yachts and planes "parked" in Turkey. Turkey's deteriorating economy is in dire need of foreign exchange and investment ahead of the 2023 presidential election. Rising prices for basic consumer goods as well as rising prices for natural gas and gasoline caused the highest inflation of the last 20 years in Turkey. The fact that the central bank of Turkey did not have enough reserves to intervene in the collapse of the Turkish lira against the dollar aggravated the crisis. Turkish Treasury and Finance Minister Nurettin Nebati admitted that the Turkish lira was at its lowest level in history, in a speech he gave this week at an event in the city of Şanlıurfa, in the southeast of the country.
Economic experts predict that Russian businessmen will move their capital to Turkey by buying companies in Turkey. However, Russian businessmen who are sanctioned by the EU will not do so in their own name but in the name of Turkish counterparts who will appear as the owners of the companies in official records. In addition, experts warn that with the arrival of Russian capital in Turkey, the Russian mafia, which specializes in drug and arms trafficking, could increase its efficiency in Turkey.
Erdoğan's intention to evade sanctions by welcoming Russian capital is reminiscent of a crisis Turkey experienced in 2013.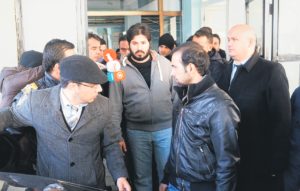 Turkey helped Iran evade US sanctions through Turkish lender Halkbank, which is currently on trial in federal court in New York. In a corruption scandal that came to light in 2013, it was revealed that Erdoğan, his family members and top ministers collaborated with Iranian-Turkish businessman Reza Zarrab to help Iran escape to US sanctions. According to the agreement reached between Turkey and the United States, Turkey was allowed to sell food to Iran, which would fall under the humanitarian exemption to the sanctions, but the documents were falsified and the instead gold and silver went to Iran in exchange for the natural gas it bought. Halkbank was also used as an intermediary agent.
Zarrab, who was arrested in Miami in 2016, cooperated with the prosecutor's office and testified in the trial of a Halkbank deputy chief executive, Mehmet Hakan Atilla, as a witness in 2017. Zarrab admitted his role in a scheme to help Iran evade sanctions as well as bribes to secure his release after his 2013 arrest.
The Erdoğan government fired police chiefs and prosecutors who uncovered the scandal, and they were sentenced to life imprisonment in March 2019 for trying to overthrow the government. Erdoğan accused police chiefs and prosecutors of belonging to the Gülen movement, a critic of the Turkish government on a range of issues ranging from corruption to Turkey's complicity with armed jihadist groups.
Meanwhile, Erdoğan sent Ekrem Sancak, a businessman close to him, to Russia in early March. Sancak, speaking on Russian television, said NATO was the main culprit in the Ukrainian-Russian war. Defining NATO as a cancer of the past, Sancak said Turkey would not participate in sanctions, adding: "Because if Russia falls, Turkey will be divided, and if Turkey falls, so will Turkey. Russia". Renowned Turkish journalist Cevheri Güven, whose YouTube videos of his investigative reporting are viewed by millions claims that Sancak traveled to Moscow to convey Erdoğan's message that Turkey is open to welcoming Russian businessmen from the capital.
In 2021, the Financial Action Task Force, an international watchdog set up by the G7 group of advanced economies to protect the global financial system, downgraded Turkey has a so-called gray list for failing to prevent money laundering and terrorist financing.